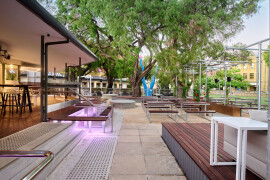 Airey Taylor Consulting was delighted to be mentioned in the 2022 Master Builder's Excellence in Construction Awards for two projects; both of which featured comprehensive adaptations of existing structures highly valued by their communities.
The first was for the QV1 Tower lobby refurbishment, a Finalist for the Best Refurbishment or Renovation $1.5 million – $5 million (sponsored by Ford & Doonan Air Conditioning Systems). The stunning result achieved was a testament to the diligence and attention to detail of Swan Group; transforming the lobby of the thirty year old iconic skyscraper into a truly international standard hub of commerce through updated high-end finishes, curved ribbon planters, mesh curtains, careful selections of furnishing, bespoke lighting systems and structural upgrades.
QV.1 Tower was a recent winner of the Richard Roach Jewell Award for Enduring Architecture as an iconic structure (an Award that defines the uniqueness of the Western Australian built environment), Airey Taylor Consulting were the original Structural Engineers for the pioneering foundations and post-tensioned concrete design. We were delighted to continue our relationship with the building and ensure that it shines on as a jewel of Perth's CBD environment.
The second was the Winner of Best Historic Restoration or Renovations ($1.5 Million to $5 Million; sponsored by Reddifund) and Best Retail Building $1.5 Million to $5 Million – the Fremantle Courthouse (sponsored by AV Trucks AVECCO).
The adaptive re-use of the structure champions the original hand-built Heritage features while creating a new restaurant, bar and function centre for the heart of the Port Centre. Meticulous attention to detail by the Buckingham Re-Development Company demonstrated the enormous respect in which the original structure is held, while realising the attractive designs of frequent ATC Collaborator Slavin Architects' beautiful new vision for the facility. We are sure that the re-imagined Courthouse will become a local hub and hive of activity in the renascent City Centre of Fremantle. Thank you to Slavin Architects for the images (Photographer : Joel Barbitta, D-Max Photography).
Airey Taylor Consulting are passionate about the adaptive re-use of buildings both historic and contemporary to meet the modern needs of our State's populace (see, for example, our paper to Concrete2021 on the successful adaptation of a Hay Street Art Deco Heritage building for modern use); and the Courthouse stands as a beautiful example of what can be achieved with expert design and superb building talent.
We were enormously grateful to be mentioned as the Engineer of Record by both Swan Group and Buckingham Re-Development Company – it is rare in the Master Builder's Awards for the Engineers to be directly cited! We look forward to collaborating with you on projects of excellence in the future.