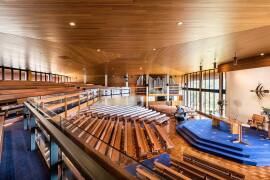 Airey Taylor Consulting would like to congratulate all of the winners in the WA Architecture Awards 2022.
We were thrilled to learn that the Christ Church Grammar School Chapel has received the prestigious Richard Roach Jewell Award for Enduring Architecture.  Airey Taylor Consulting were Structural Engineers for the building; both for the original Hobbs Winning Leighton Partners design and stylish recent additions and refit by With_Architecture Studios.
The original vision of Architect John Lidbury of Hobbs Winning Leighton Partners almost 50 years ago created such a timeless modern classic that recent renovations were conducted under the guidelines Burrup Charter to ensure its unique characteristics were not diminished. The recent expansions enjoyed meticulous attention to detail by With_Architecture expanded the functionality of the building to meet the growing needs of the Chapel. Seating capacity was expanded, forecourt functionality extended for outdoor events, building infrastructure refreshed and Compliance with local building Codes certified with a $3.7 million building program.
The final iteration of the Chapel has updated the functionality to cater for new and future generations of students while maintaining the original ambience and striking character of John Lidbury's design.
Airey Taylor Consulting are delighted to have contributed to two Richard Roach Jewell Award projects in recent years, with QV1 Tower in Perth celebrated in 2019. The prestigious award recognises the iconic designs that create the unique style of Perth and will endure for future generations as part of our cultural map. We hope to continue to assist the Architectural community to create enduring designs that will be recognised as timeless classics, and congratulate Christ Church Grammar School for their commitment to superb Architecture and Engineering.