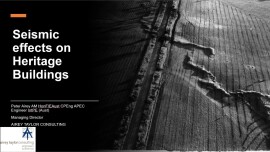 Managing Director of Airey Taylor Consulting, Peter Airey AM, presented to the Department of Planning, Lands, and Heritage (WA)'s 2022 Heritage Conference 'Be prepared – act now to protect our past' on Thursday 19 May. Streaming on-line to a statewide audience, Peter presented on the impact of earthquakes in Western Australia, the history of the development of quake readiness, and sensible Engineering measures to protect our Heritage Assets.
Peter is passionate about preserving our State's Heritage buildings and assets and was pleased to be joined by presenters from Geoscience Australia alongside with the team who recently quake-proofed the York Hospital.  Western Australia is actually the most frequent and severe recipient of seismic events in Australia and awareness of precautions for buildings pre-dating the current Code is very important for Heritage managers.
A copy of his presentation is available here. 
Peter thanks the Department of Planning, Lands and Heritage on their commitment to protecting our State's valuable historic buildings and assets.