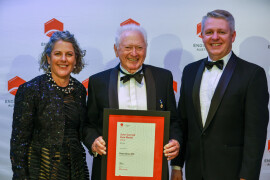 We are thrilled to announce that Peter Airey AM, Managing Director of Airey Taylor Consulting, has been awarded the honour of the John Connell Gold Medal for 2022 by the Structural College of Engineers Australia.
The award recognises his lifetime achievements and contributions to the field of Structural Engineering. There is only one Engineer selected nation-wide for this honour every year, and it could be considered Peter's crowning achievement in his highly successful career extending over five decades. More details on the John Connell Award and the history of John Connell himself are here (thank you to John Woodside for this information!).
Peter accepted the Medal last night in the company of his wife and peers at the Engineers Australia national awards ceremony at the Hilton in Sydney. His colleagues and family are very proud of him and we encourage you to read the application and his supporting biographical information here. Official links to the Engineers Australia Excellent Awards of 2022 are available here and the Recognition Awards (including the John Connell Gold Medal) are here.