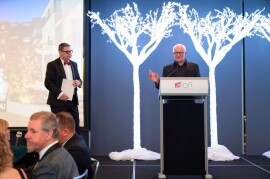 Frequent Airey Taylor Consulting collaborators, John Colliere and Colliere Architects, recently received 3 Awards at the 2023 Winconnect Apartment Awards for Excellence on Friday 16 June.
As well as two Special Commendations (one in the Innovation and Technology category for 12 Prowse Street, and one for Enduring Project for Heppingstone Street); John and team won the overall Enduring Project award for their superb work on St Quentin's Apartments in Claremont, a project that has set a new standard in Excellence in the 12 years since completion.
Airey Taylor Consulting provided Structural Engineering at St Quentins Apartments for John and team, and were delighted to see the accolade.
The complex consists of 62 luxury apartments, 20 commercial and retail units, 176 car parking bays, a pool, gymnasium and board room. Innovation in the concrete design and construction method was required by the project team, Airey Taylor Consulting and Cooper & Oxley builders to achieve a successful result.
A top-down design and construct approach was adopted, where the first step was to cover the site with a post-tensioned slab on grade. The basement levels were then excavated around the drilled-in piles which doubled as columns of the carpark. Trucks were able to drive onto the slab to make deliveries which later formed the central Square of the completed building. In this way construction did not depend on the closure of St Quentin's Avenue — which was the case for a neighbouring construction. As the dust and noise from excavation was contained under the top slab, construction integrated perfectly with the busy commercial district at the heart of Claremont.
A permanent form concrete walling system was used. These compressed fibre-cement panels were filled with concrete on site to provide excellent thermal and acoustic insulation near Stirling Highway, requiring no minimum scaffolding on site, thereby reducing Occupational Health and Safety risks. Structurally these permanent form walls doubled as shear walls and transfer beams, providing extra internal space that is normally taken up by down stand beams. The result is an uncluttered architectural interior.
The top-down construction approach was one of the first times it was used in Western Australia, and resulted in smooth project delivery completed 4 months ahead of schedule.
The Enduring Project award is a testament to the forward thinking and innovative character of John Colliere and his team, and we congratulate him for all of the kudos received!