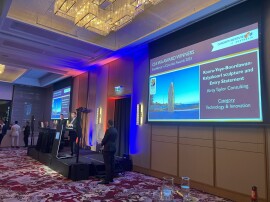 Airey Taylor Consulting were honoured to attend the Concrete Institute of Australia's Excellence Awards held at the Carlton Ritz Hotel on Friday 7 May.
Our project Koora-Yeye-Boordawan-Kalyakoorl sculpture and Entry Statement at Wadjemup (Rottnest Island) was selected as a winner of the coveted Innovation and Technology Award among the field of excellent finalists. The project will now proceed to the National Awards as a Finalist.
The monument sets an industry benchmark for the use of glass fibre reinforced polymer rods as reinforcement for concrete in a coastal setting. Using the material enabled the creation of the striking 9 metre high curved monument work in 25MPa aesthetic concrete with only 30mm cover over the reinforcement (vastly surpassing the Code requirements); yet it will never crack or suffer concrete cancer expected in the corrosive setting.
Accepting the Award in lieu of Managing Director Peter Airey AM, Managing Director (who was unable to attend), Phil Airey thanked the Rottnest Island Authority for the commitment to create a real monument to honour the true history of the Island to endure for generations; artists Jahne Rees and Sharon Egan for the invitation to participate and to help them to create the unique and striking form of their vision; Mateenbar for the custom GFRP rod supply; and to BGC for their beautiful limestone aggregate mix.
Airey Taylor Consulting also would like to thank the Concrete Institute of Australia for their amazing event and the opportunity to share this project with our community of concrete creators. We look forward to the National Awards night.