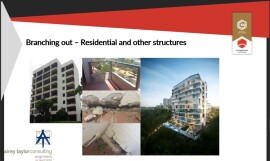 Managing Director Peter Airey recently joined the team presenting on "GFRP Bars for Reinforced Concrete Structures : State of Practice in Australia"  – showcasing knowledge and practice using Glass Fibre Reinforced Polymer rods for a national livestream to 437 registered attendants for Engineers Australia on 19 August 2021.
Peter joined Professor Allan C. Manalo (Professor of Civil Engineering, University of Southern Queensland) and Dr Khodamorad Nabaki (Principal Structural Engineer at Madewell Products) to explain the optimum use of the material for concrete structures for Engineers.
His seminar within the series was titled "A decade of design and practice using GFRP : current and future trends" and gave his reflections on his adoption of the material for use for Australia – something that Airey Taylor Consulting has been at the forefront of since initiating research with the University of Western Australia in 2011, and having used the material in multiple projects and settings around the country.
The material is of national significance as it gives a definitive solution to concrete cancer – which significantly affects coastal projects; and 85% of our population lives along the coast.
The full video of the seminar and responses to all questions is available through Engineers Australia's EA On Demand program; a transcript of Peter's presentation can be found here.