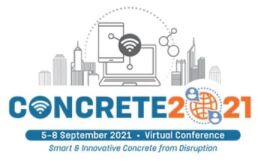 At the recent Biennial National conference of the Concrete Institute of Australia (Concrete2021 held on 5 September 2021 – 9 September 2021); Airey Taylor Consulting members presented a firm record of 4 published papers for the one conference; reflecting the firm's leading edge capacity for Engineering and Materials Science using the material. 361 attendants from around the country joined the virtual symposium to share best practice and advancements in Concrete.
Managing Director Peter Airey co-presented a paper with Phil Airey of Advanced Substructures Limited that opened the Infrastructure stream on the first day; titled "Specialist to Detail : The Industry Gap in Substructures" that explains the current gap in design practice of foundations, basements and substructures; and how people and projects can be protected from the consequences of inadequate design. Using real world examples of both successful and failed projects, the paper made recommendations to prevent fragmentation of design (and design responsibility) in particular and recommended value engineering review where identified.
Dr Anthea Airey and Darshan Shankar appeared in the opening Durability stream session (also on September 5) with a paper titled "Glass Fibre Reinforcement – Durability and Structural Design" which gave comprehensive cutting edge design characteristics for use of the material in concrete in Australian conditions (including load, shear, fire performance and other considerations) with examples from recent jetty projects, comparative market analysis into cost performance and more.
In the same session, Dr Michael Challenor presented the resulting of his scientifically valid enquiry into the performance characteristics of Caltite at the exposed conditions of the Pan Pacific (Sheraton) hotel roof in Perth – titled "Caltite Performance in a 50 year old concrete roof". The paper examined core samples taken from the roof which showed remarkable leak free performance despite exposure to the elements without any form of waterproofing membrane.
The final day (9 September 2021) featured Dr Anthea Airey also presented her findings from a successful Heritage restoration project titled "Hay Street Art Deco Heritage; Carbonation and Chloride Observations; Restoration and Adaptive Re-Use." The paper showed an example of adaptive re-use of concrete materials (particularly for upper floors of the building) as an alternative to facadism for modern adaptations of heritage structures. The paper provided an economic analysis of the option alongside original research into the site at 726 Hay Street; and made a convincing argument about the attractiveness of maintaining current income streams while restoring extending functionality.
While extracts are posted above, full copies of the papers are available for Concrete 2021 attendees alongside video presentations/summaries and records of the QA; the Conference can be streamed in its entirety at https://ciaconference.com.au/.