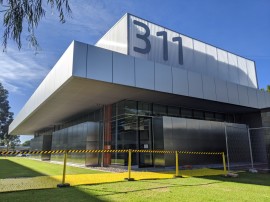 Airey Taylor Consulting would like to congratulate SHAPE projects for their achievement of the award for Best Education Building $5 – $10 Million in the 2020 Master Builder's Association Excellence in Construction Awards for the B311 Superlab PC building at Curtin University in Bentley.
The SuperLab concept improves the educational experience for Curtin University's Health Sciences and Science & Engineering students by enabling teaching across these faculties in one facility, and builds a supportive culture of multidisciplinary science, innovation and interactivity. To bring the design of with_architecture studio to reality, Airey Taylor Consulting provided Structural Engineering services, which were then built with meticulous attention to detail by SHAPE.
The redevelopment added new laboratory teaching facilities to the northern side of the existing concrete framed Applied Science building, which was built in 1978.
Some features of the new facility include :
A Flexible SuperLab for up to 96 students that can sub-divide into halves or quadrants for separate teaching spaces. The SuperLab includes wet benches, sinks and biosafety cabinet work stations for many of the Lab tasks to common subject areas
An additional Dry Lab that accommodates 12 students
An interactive Student Hub for students to collaborate between classes
A preparation Area, Cool Room and a BSC II Zone
Upgrades to existing amenities including toilets and meeting room, in addition to key infrastructure and compliance works
The existing façade was demolished and the existing ground floor slab extended by 450 square metres to make space. Sections of the existing first floor slab & beams were modified to allow for the extensive air-conditioning ductwork required for the high-level laboratory. The work included removing large sections of the bottom of beams and providing steel support beams on the roof slab.
The new steel structure spanned column free over the laboratory with the western third of roof supporting 28T of plant equipment. The northern roof cantilevered 3.9m with a fascia providing sunshade to the windows. Extensive screening and support structure was provided on the east side to the fume cupboard exhaust stacks.
The stylish and practical building is now serving the needs of Curtin students and faculty while promoting deeper engagement with the Science curriculum.
The Project continues Airey Taylor Consulting's successful track record of Educational projects alongside with_architecture; including the recently completed New Preparatory School for Christ Church Grammar School. We wish to particularly thank Chris Slowe and Yannick Szitor from SHAPE for their particular attention in integrating new services with the old while  achieving PC2 (physical containment) certification.
Thanks also to with_architecture and Edwin Janes for the images of the completed Superlab in operation.