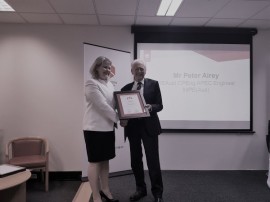 It is with great pleasure that we announce that Founder and Managing Director of Airey Taylor Consulting, Peter Airey, has been appointed an Honorary Fellow of Engineers Australia.
This lifetime achievement award recognises the work of eminent engineering professionals who have exhibited unmatched dedication to their disciplines. The appointment recognises his contributions spanning a career of over 50 years, which has made a marked contribution to the built environment of Western Australia. Peter received this Award on Thursday December 6 in Canberra, and a photo of him receiving the award from Hon Trish White, National President of Engineers Australia is attached below.
Engineers Australia note that recipients have rendered conspicuous service to the profession of engineering, are eminent in engineering or an allied science, or a distinguished person whom the Board desires to honour, either for having rendered conspicuous service to the Australian people or in recognition of outstanding achievement.
Peter has previously achieved national recognition from Engineers Australia in 1998 for his work on remediating structures damaged by clay-based movement (an innovation that led to the development of Claylock® and Retroclay®), and in 2011 as responsible Director of Airey Taylor Consulting, provided the complex structural design of the State Theatre Centre of WA, recognised as the Best Engineering project in Australia.
In 2018, Peter founded Advanced Substructures Limited to bring these practices to the national construction industry. He continues as Managing Director of Airey Taylor Consulting.
Peter has also recently been appointed as a national Consultant to the review committee for AS 4678 Earth Retaining Structures. Peter will bring his knowledge from decades of engineering design experience to enhance the standard of practice in the Australian construction industry. He will be joining other leading authorities to ensure our nation's industry standards reflect current best practice.