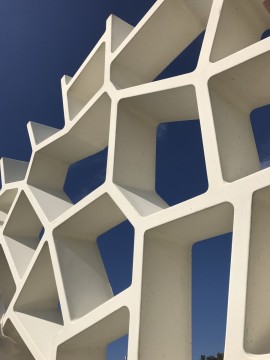 Following the success of the South Metropolitan Campus of TAFE in the 2018 Master Builder's Association (WA) Excellence in Construction Awards, the project and contributors have featured in the Built Office Magazine's issue number 13 – published by the National Precast Concrete Association of Australia.
Here is an excerpt, where Director of Airey Taylor Consulting, John Taylor is interviewed :
"MINIMISING STEELWORK
Airey Taylor Consulting were engaged as the civil and structural engineers for the project and Director, John Taylor, says the elegant design of the façade panels have inherent spanning capabilities of up to 3.6 metres.
"As the panels are transparent, it was intended to minimise the background steelwork and so they are supported near each corner. Vertical outriggers attached to the building were aligned with the panel joints and four arms extended out to pick up the corners of the adjacent panels," Mr Taylor explains.
"The panels were arranged so that they could be rotated 90 or 180 degrees and so that the ribs matched the adjacent panels."
Although designed for wind and earthquake loading, it was the self-weight of the panel and transport that governed the design, in particular where the panel cast-in support socket was located on an outer rib and was subject to bending."
We thank National Precast Concrete Association Australia for showcasing the project, and a link to the full article of their case study is here.  The completed Issue Number 13 will be available shortly from their website here.