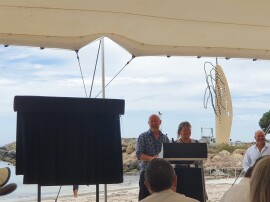 Airey Taylor Consulting were delighted to attend the launch of the Koora-Yeye-Boordawan-Kalyakoorl (Past-Present-Future-Forever) sculpture at Wadjemup (Rottnest Island) yesterday. The launch was hosted by the Rottnest Island Authority with David Templeman MLA, Minister for Tourism; Culture and the Arts and Heritage announcing the project's completion. The project was made possible by funding both State and Commonwealth Governments.
The 9 metre high sculpture was designed by Western Australian artists Sharyn Egan and Jahne Rees with significant input from the Whadjuk Noongar community. In their explanatory speech about the piece, Jahne and Sharyn thanked Airey Taylor Consulting for the Structural Engineering innovations that will help the sculpture last for generations.
The design replaced steel reinforcement in the concrete structure with glass fibre reinforced polymer rods; ensuring that the sculpture will never suffer cracking or concrete cancer despite the corrosive and saline oceanside environment. This also enabled the work to use aesthetically beautiful limestone concrete of 25MPa compressive strength, rather than the 45MPa standard required under the Code. The piece was able to be cast with a much narrower form as the need for concrete cover over the reinforcement was minimised.
Other innovations included the use of post-tensioning to protect the "shield" from cracking during transit and installation, along with significant foundation design that allows the sculpture to free-stand without visible support.
The final result is a triumphant entry statement that welcomes and educates visitors to the Island to the heritage of Wadjemup; communicating both the traditional spiritual journey of the afterlife from the West End of the Island, and the historic use of the Island as a prison for Aboriginal males. It is a stunning and hopeful work for reconciliation that Airey Taylor are honoured to be part of.
Airey Taylor Consulting would particularly like to thank Jahne and Sharyn for their superb design and vision; their team of fabricators at SCAPE-ISM for turning the design into reality with passion, and the Rottnest Island Authority for their tireless support and commitment to the integrity of the project.
Please check the official Rottnest Island Authority news piece at this link.