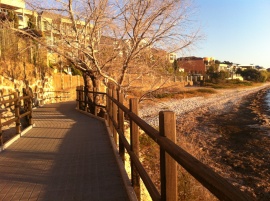 Upgrading the Dundas Point Board-walk, Applecross with the use of GFRP Bar Reinforced Concrete Columns and Footings
Submission for Concrete Institute Awards for Excellence 2015, Projects Category.
By: Joel Brown B.Eng GradIEAust – Structural Engineer, Airey Taylor Consulting
Abstract:
The use of Glass Fibre-Reinforced Polymer (GFRP) bars for internally reinforcing concrete structures has been growing to overcome common problems of steel reinforcement, such as corrosion.  Areas for application are dominated by bridge decks where de-icing salts are used, although other applications include coastal structures or structures aiming for an extended design life.
The Dundas Point Board-walk in Applecross, Western Australia is subject to a harsh marine environment and remedial works to the foundation system which included corroded steel piles were focused on achieving an extended design life and addressing the ongoing corrosion issues encountered in marine environments.
In stage one of the board-walk repair, 16 concrete columns and 8 concrete footings were constructed, all internally reinforced with GFRP bars.  The design of the footings and columns was performed using Canadian Code CAN CSA S806-12 (1) and ISIS Canada's guide 'ISIS Educational Module 3: An Introduction to FRP-Reinforced Concrete' (2).
As the board-walk decking was constructed using steel supporting members, attention was paid to detailing the concrete to steel connections in order to avoid moisture ingress and bimetallic corrosion.  This connection was designed using GFRP threaded bolts embedded into the concrete piles and connecting the supporting steel members.
Contractor feedback highlighted the ease of workability with the GFRP bars and all research suggests that there is no reason that a design life in excess of 75 years for the concrete elements cannot be achieved.