Two Airey Taylor Consulting projects received awards in the recent 2019 Master Builders Association/Bankwest WA Excellence in Construction Awards.
Projects from both Civil and Structural disciplines have been celebrated, with the Christ Church Grammar School Boathouse Ramp in Claremont receiving the award for best Civil Engineering works $1.5 – $5 million and Construction on a Challenging Site Award (sponsored by Principal Partner Bankwest), and Armadale Aquatic Centre at Seville Grove in Armadale receiving the Best Public Use building ($20 to $50 million) prize.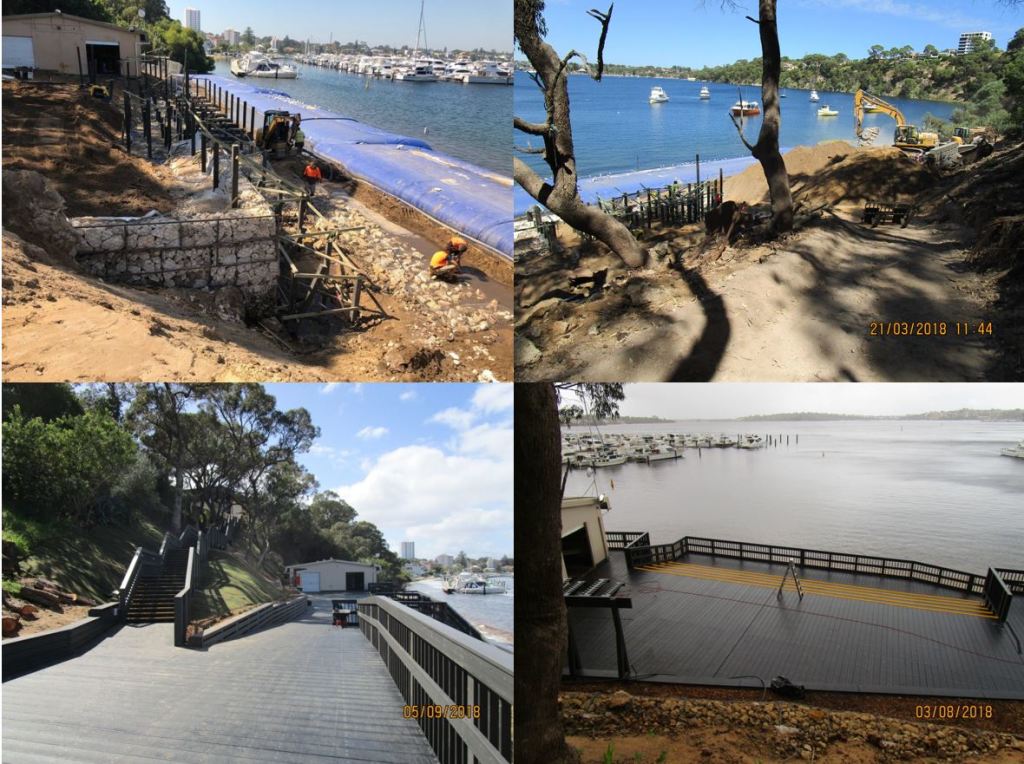 The Boathouse Ramp project (above) utilised Airey Taylor Consulting's full suite of solutions for durability design, creating a lasting facility for rowing, nautical and marine studies and community access on a very remote, sensitive and complex site. Construction took place on an extremely restricted site footprint between the Swan River and a limestone cliff, making it a great technical challenge to complete. Due to the cultural importance of the site for the Noongar people, no concrete foundations were allowed on the foreshore, although recycling on the existing concrete ramp into gabion baskets was possible. Daily tidal movements restricted the delivery of materials to site by barge. Vital Building Company translated Airey Taylor Construction's design into practice in a stunning build that will endure despite the difficult environment, utilising materials selected for endurance and aesthetics – including limestone to match the surrounding area, geotextiles to prevent sand leakage, and wood/plastic composites with stainless steel to minimise the impact of corrosion.  Congratulations to the entire team involved.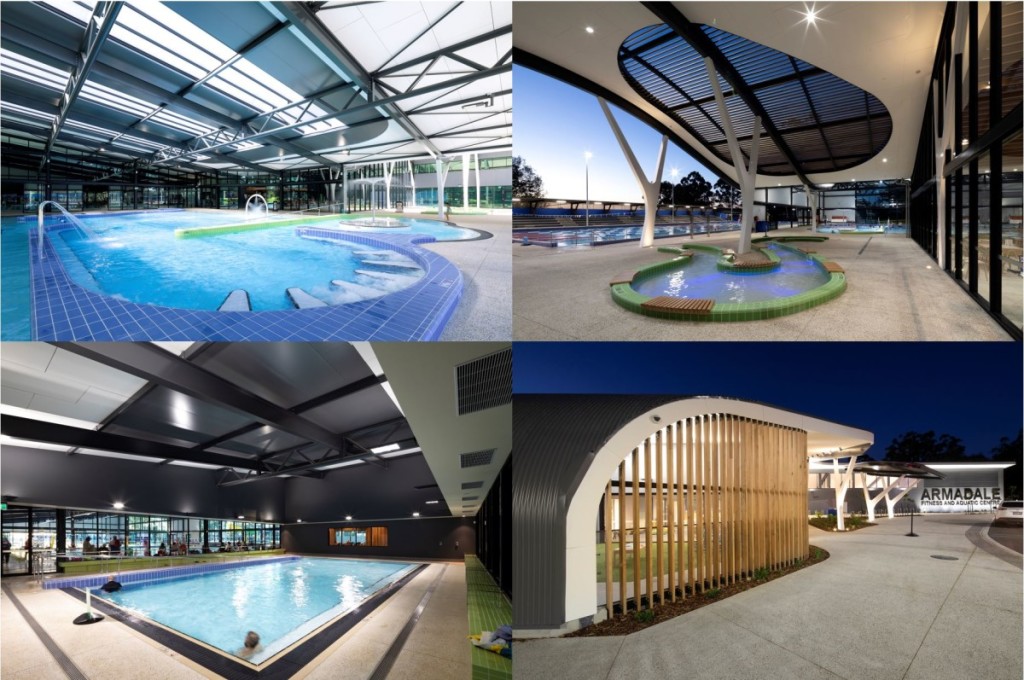 Armadale Aquatic Centre (above) continues Airey Taylor Consulting's successful track record of collaborating with Donovan Payne Architects (images courtesy of them!)on award winning Aquatic Centres, having previously created the nationally lauded Bold Park Aquatic Centre refurbishment. A $26 million redevelopment funded by Federal and State Government grants alongside the City of Armadale, the Aquatic Centre features 5 inground concrete pools (including geothermal heating created by Norman Disney and Young) and a ASHI-YU (leisure pool and spa), gymnasium, fitness rooms, creche and amenities. The existing 50 metre pool was retained and refurbished.
The structure uses tilt-up concrete wall panels, brick wall to amenities areas and insulated wall panels and glass to the exterior walls. The roof construction over the pools consisted of 2 main longitudinal exposed pipe trusses supporting rafters and insulated panels. The roof structure over the gym area was made from 530UB members, Z200 purlins and 200 mm thick PIR insulated panels. The centre section of roof is composed of Colourbond Custom Orb sheeting.
An attraction of the entry & central corridor are custom welded steel columns profiled as trees. The complex also has a separate plantroom and amenities building. The internal plantroom is supported on in-situ concrete suspended slabs.
PS Structures did a superb job of translating the beautiful designs of Donovan Payne into practice, with Airey Taylor Consulting's Director John Taylor continuing his career speciality the creation of nearly 100 quality Aquatic Centres throughout Australia.
Congratulations to everyone involved in these landmark projects, and we look forward to working with you in future.