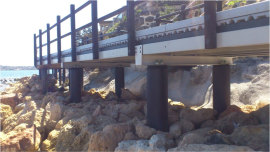 Airey Taylor Consulting is very excited to announce a resumption of collaboration with the University of Western Australia in the research initiated in 2011 by them on the development of Glass Fibre Reinforced Polymer (GFRP) in concrete. The new area of research is in the use of GFRP under combined bending and axial loads.
The durability of steel reinforced concrete structures is an issue that continuously challenges Asset Owners and Engineers around the world. GFRP does not corrode and offers a solution.
Recently published research by the University of Sherbrooke in Quebec Canada, which replicated in part the research programme concluded by the University of WA in 2012, validates all of the findings of locally initiated research.
The results of the research performed provides a basis for design of axially loaded members in compression. It has been used by Airey Taylor Consulting in the design of the Dundas Point Boardwalk in Applecross, Western Australia, completed in 2014. This structure is believed to be the first such structure in Western Australia.
The research in Western Australia is being co-ordinated with that in Quebec to advance knowledge of the use of GFRP under combined bending and axial loads.