LOCATION:
Moora, Perth, Western Australia
PROJECT VALUE:
$7.75 M
YEAR OF COMPLETION:
2006
Situated on highly reactive "Class H" clay soils, the new Moora Hospital entailed a two stage development.  Once relocation of equipment, personnel and patients from the existing was complete the second stage encompassed demolishing the existing hospital and reconstructing a new stage 2.
The Hospital was constructed using the patented ClayLock clay soil stabilisation method developed by Peter Airey, now forming a component of Advanced Substructures' suite of solutions for building on clay. Ongoing monitoring of the slab by surveying confirming stabilisation after 10 weeks (compared to an ongoing annual cycle of highs and lows spanning 40 – 60 mm).
The system has enabled use of less complex concrete rafts estimated from independent quantity surveys conducted by Ralph & Beattie Bosworth on other nursing home projects to save up to 30% on foundation cost.
The job was completed in October 2006, 5 months ahead of schedule, in part due to the simplicity of this new construction process.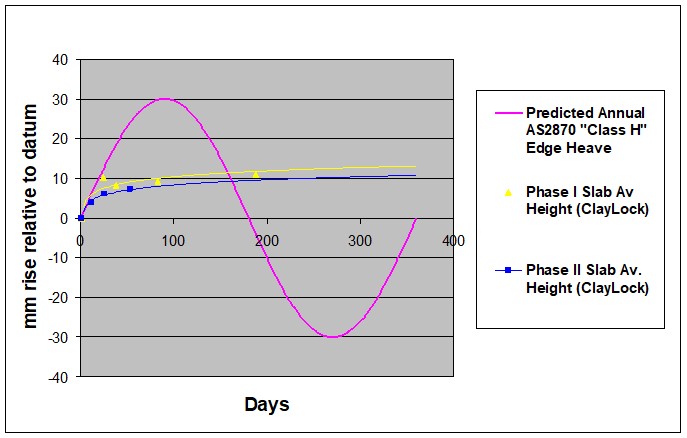 The graph to the left shows the monitoring results of the clay table at the Moora Hospital site (assisted by State Government funded research) proving the stability achieved through the use of ClayLock.  Monitoring was conducted for three years.