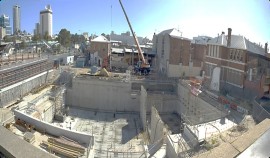 Managing Director of Airey Taylor Consulting, Peter Airey, will be providing a seminar as part Engineers Australia's Centenary program of knowledge sharing and Continual Professional Development on November 19, 2019.  He will co-present the seminar, entitled "Ground retention and preventing undermining of adjacent structures", with Dr Doug Stewart of Golder Associates.
The presentation combines their multiple decades of combined expertise in structural and geotechnical engineering to provide attendees with a solid background in the requirements of ground retention design and construction.
The presentation will use significant local case studies to highlight what happens when inadequate retention occurs versus what can be achieved with a suitable design process. The presentation will also refer to the review of standard AS4678 (Earth Retaining Structures) that both Peter and Doug are currently participating in.  Peter's knowledge and practice in the field of ground retention systems is nationally significant, and forms part of the core offering of the new company Advanced Substructures Limited that he has recently formed.
A highlight of areas covered in the presentation is:
Site investigation requirements for retaining structures
Temporary works required to facilitate installation of the retaining structure; or temporary retaining structures such as permeation grout blocks
Ground movements during installation of the retaining structure (e.g. prior to any bulk excavation)
Impact of ground movements on adjacent infrastructure
Monitoring requirements
Retention and construction systems for high-rise buildings (in wet and dry soils
For more information, bookings and details, check the Engineers Australia website.