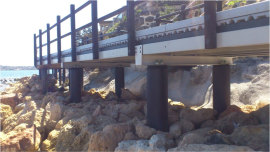 Leading researcher in Glass Fibre Reinforced Polymers at Airey Taylor Consulting, Joel Brown, has been invited by the International Institute for Fibre-Reinforced Polymer (FRP) in construction to present at their International Conference in Hong Kong later this year.
The 8th International Conference on Fibre-Reinforced Polymer (FRP) Composites in Civil Engineering (CICE 2016) will be held in Hong Kong, China on 14-16 December 2016. It will mark the 15th anniversary of the CICE conference series, which is the official conference series of the International Institute for FRP in Construction (IIFC). CICE 2016 will provide an international forum for all concerned with the application of FRP composites in civil engineering to exchange recent advances in both research and practice, and to strengthen international collaboration for the future development of the field.
For more information on our work with Glass Fibre Reinforced Polymers, click here. To learn more about the international conference you can click here.